Samsung Pay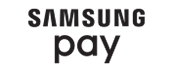 Paying with your credit card and Samsung device is fast and secure. Just pull out your phone or watch and you're ready to pay almost anywhere you can swipe your card.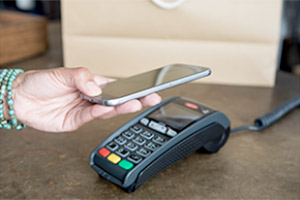 Secure
Retailers never have access to your actual card number. A dynamic token is created so your information stays safe.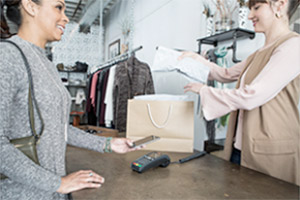 Simple
Set up in just a few steps, then pull out your phone, hover and authorize payment with your fingerprint.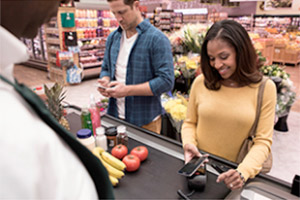 Convenient
Use it to pay in stores virtually anywhere you can swipe your card.
Get started
1. Add your card

Scan your Mastercard information with your Samsung phone's camera, or upload it to your watch.

2. Secure your info

Secure your information with your fingerprint, pin number or iris scan.

3. Touch to pay

You're ready to pay at a store: swipe up on your phone screen, or press and hold your watch's back key, to activate. Hover your phone above the terminal or tap your watch to pay.
Answers to the top questions
Is Samsung Pay secure?
When you add your card to your device, the security features of Samsung Pay encrypt all your information.
When you make a payment at a retailer, they don't have access to your actual card number—instead a dynamic token is created. Your information stays safe.
Embedded Samsung Knox technology monitors your device round the clock for suspicious activity.
In the event your device is compromised, your card information is safely encrypted within a separate and secure data vault.
Is Samsung Pay really accepted almost everywhere I use my card?
Yes, it's true: You can use Samsung Pay in almost any store where you pay with your card, which means millions of stores accept Samsung Pay. You can use it to pay both in stores and in apps.
Which devices is Samsung Pay compatible with?
Samsung Galaxy S8, Galaxy S7 edge, Galaxy S7, Galaxy S6 edge+, Galaxy Note5, Galaxy S6 edge, Galaxy S6 active, Galaxy S6, Gear S2 (with NFC only) and Gear S3.